Description
LM35DZ Temperature Sensor
LM35DZ/LM35 is a temperature measuring device having an analog output voltage proportional to the temperature.

The LM35DZ sensor

 is presented with several types of encapsulations, the most common being the TO-92, which looks more like a transistor, and offers a great cost-benefit ratio, being the cheapest of the models and providing the same precision of the others.

It provides output voltage in Centigrade (Celsius). It does not require any external calibration circuitry.
The sensitivity of LM35 is 10 mV/degree Celsius. As temperature increases, output voltage also increases.
            E.g. 250 mV means 25°C.
It is a 3-terminal sensor used to measure surrounding temperature ranging from -55 °C to 150 °C.
LM35 gives temperature output which is more precise than thermistor output.
Pin Description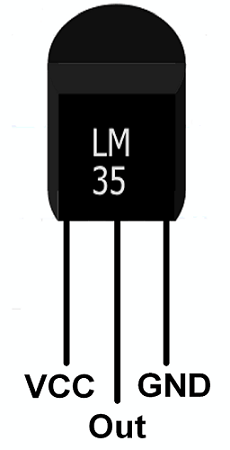 VCC: Supply Voltage (4V – 30V)
Out: It gives analog output voltage which is proportional to the temperature (in degree Celsius).
GND: Ground
Some key parameters of the LM35DZ/LM35:
Main features of LM35 sensor
+ Input voltage from 4V to 30V
+ Output voltage resolution is 10mV / oC
+ High accuracy at 25 C is 0.5 C
+ Low output impedance 0.1 for 1mA load
The measured temperature range of the LM35 is from -55 C to 150 C with different output voltages. Consider the following voltage levels:
– Temperature -55 C output voltage -550mV
– Temperature 25 C output voltage 250mV
– Temperature 150 C output voltage 1500mV
Customers who bought this item also viewed
You recently viewed this item